How do you fight fatigue, beat the blahs, and stimulate your stamina on a daily basis? As you might expect, the causes of fatigue are all over the map, so each week, we'll hit another fatigue factor, show what it is, and what to do about it.
Don't expect some set of miracle cures, or upselling some crazy, revolutionary, [insert over-the-top metaphor here] set of supplements that will instantly solve the problem.
The solutions you'll get are lifestyle oriented, based on evidence-based outcomes across categories: nutrition, activity, and mindfulness.
So PERK UP, because answers are coming each week of this month.
Next Week:    Energy Boosters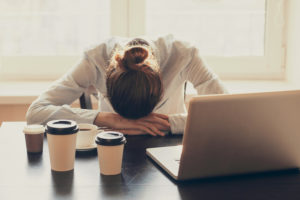 2nd Week:      Energy Busters
3rd Week:       Getting Mental
4th Week:       Getting Physical
Just Bear In Mind:
There are many possible sources of fatigue, some of which can be addressed by lifestyle choices, where others will need to be addressed by a physician. Chronic exhaustion may be a sign of a condition such as:
Acute liver failure, Anemia, Anxiety disorders, Cancer, Chronic fatigue syndrome, Chronic infection or inflammation, Chronic kidney disease, Concussion, COPD (chronic obstructive pulmonary disease), Depression (major depressive disorder), Diabetes, Emphysema, Fibromyalgia, Grief, Heart disease, Hyperthyroidism (overactive thyroid), Hypothyroidism (underactive thyroid), Inflammatory bowel disease (IBD), Medications and treatments, such as chemotherapy, radiation therapy, pain drugs, heart drugs and antidepressants, Multiple sclerosis, Obesity, Pain that's persistent, Sleep apnea, Traumatic brain injury
(source: Mayo Clinic)