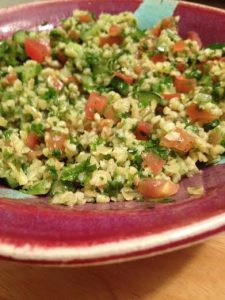 The dish makes the perfect side dish for many meals. Tabouli highlights the herb parsley which does wonders for our health. So put on some music while you chop away. 
You'll Need
1 cup bulgur wheat
1 ½ cups fresh chopped parsley
½ cup chopped green onion
1 small cucumber, chopped
3 medium size tomatoes, chopped
1 teaspoon salt
¼ cup fresh mint, chopped
1/3 cup olive oil
1/8 cup lemon juice
2 cups warm water
Soak bulgur wheat in 2 cups of warm water for 35-40 minutes.

While wheat is soaking finely chop all the vegetables, parsley and mint.

In a large size bowl combine all chopped ingredients, olive oil, salt, and lemon juice.

Drain and dry wheat and combine with ingredient mixture. Mix well. Adjust salt and enjoy!