You may want to start sampling dishes now to use as a yummy holiday
side dish. This one is bursting with flavor.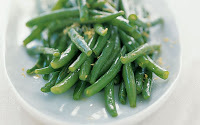 You'll Need
1 pound green beans, ends trimmed
2 garlic cloves, minced
1 Tablespoon red-wine vinegar
1 Tablespoon olive oil
1/8 teaspoon salt
1/8 teaspoon freshly ground pepper
Directions
Steam beans for 5 to 7 minutes or until tender crisp.
If you want to preserve the color of the green beans, rinse briefly under cold water to preserve color, but do not chill.
Cover and keep warm.
In a large bowl, combine garlic and remaining ingredients.
Add warm green beans and toss until well coated.