Recipes
Mashed Maple Sweet Potatoes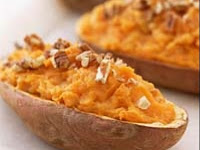 A fabulous way to use the in season sweet potatoes. Give this one a try and decide if you want to feature it at your Thanksgiving spread.

You'll Need
3 medium sweet potatoes, peeled and quartered
1 tablespoon maple syrup
1 to 1 1/2 tablespoons butter
¼ teaspoon salt
1/3 cup milk
Directions
In a medium saucepan cook potatoes, covered, in a small amount of boiling water for 30 to 35 minutes or until very tender; then drain.
Mash with a potato masher or beat with an electric mixer on low speed.
Add maple syrup, butter, and salt.
Gradually beat in enough milk to make potato mixture light and fluffy.