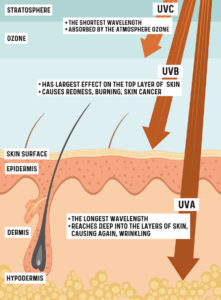 Sunlight may feel wonderful on your skin, but too much exposure to the UV rays can encourage skin cancers. In fact, the World Health Organization explains that up to 2 to 3 million people globally now have non-melanoma skin cancer (which is the less aggressive form), and approximately 132,000 now have the more aggressive melanoma form.
Research also indicates that extended sun exposure can contribute to cataracts — an eye condition that causes cloudy and blurred vision. Review and implement these tips to aid in the prevention of cancer and cataracts.
The amount of time you can safely spend in the sun depends on many factors: the season, the altitude, and the tone of your skin.
During summer months, when you are closer to the equator, and at higher altitudes the sun's rays move through less atmosphere, making it more likely that they can damage your skin.
That said, a good rule of thumb is to prevent your skin from getting a sunburn.
If you feel that you will be exposed to the sun long enough for your skin type to burn, wear sunscreen, hats, and sleeves.
Don't forget to protect your eyes by wearing sunglasses that block UV radiation from the sun.
When considering sun screen — how much to apply, what strength, and for how long, it's best to start more liberal in your use to avoid burns and the skin damage it can cause.
Be particularly aware of the potential for sun damage to your skin during the summer months, and at higher latitudes.