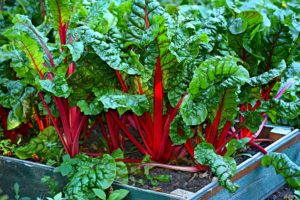 A unique dish that makes wonderful side dish! Swiss chard is a great green to start adding more of into your diet.


You'll Need
1 ½ pounds Swiss chard (preferably rainbow or red)
1/4 cup pine nuts (2 ½ ounces)
¼ cup olive oil
1 medium onion, finely chopped
¼ cup golden raisins
1 cup water
Directions
Tear chard leaves from stems, then coarsely chop stem and leaves separately.
Toast pine nuts in oil in a wide 6- to 8-quart heavy pot over moderated heat, stirring constantly, until golden, 1 ½ to 2 minutes, then transfer with a slotted spoon to paper towels to drain and season with salt.
Cook onion in  remaining oil in pot, stirring occasionally, 1 minute, then add chard stems and cook, stirring occasionally, 2 minutes.
Add raisins and ½ cup water and simmer, covered, until stems are softened, about 3 minutes.
Add chard leaves and remaining ½ cup water and simmer, partially covered, stirring occasionally, until leave are tender, about 3 minutes.
Season with salt and pepper. Serve sprinkled with pine nuts.
Save