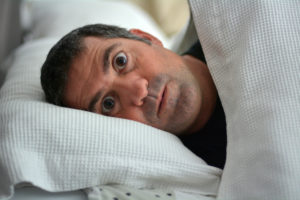 Let's say you have a nightmare. King Kong is chasing you through New York City, and you may hide under some random desk in a random building that your brain conjured up for this little dream sequence, but no matter where you go, the giant bloodshot eyeball tracks across the window looking for you because this giant ape has nothing better to do in his day than relentlessly hunt you down.
You wake up sweating, heart pounding, eyes dilated. And you instantly recognize — even as you nervously glance out your window — that King Kong is a fiction, but that does not make your body's physiological reaction any less.
You had a very real stress response to a very obviously unreal mountainous ape. But because your brain interpreted those images as real at the time, the physiological stress response took over. The same thing happens, eyes opened, every day when people see things, they are interpreted by your brain as good or bad.
So. If the very same event is interpreted as bad, it can elicit a very real stress response inside your body. If the same bad driver, rude teenager, or disfunctional Alexa is not taken as a bad thing — once it gets inside your brain — then it will NOT elicit a stress response.
One solution to act as your shield is to "find the good", where you can, when you can, how you can. Practice this. Make it a habit, and it will help control whether your observations turn into a positive outcome for your body, or whether they turn into a stress-induced physiological nightmare.