This recipe is an easy way to enjoy in veggies and a great way to use up leftover cooked chicken.
You'll Need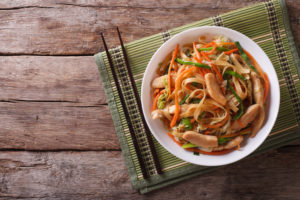 2 medium onions, thinly sliced
1/2 cup sliced mushrooms
1/2 cup sliced water chestnuts
28 ounces drained bean sprouts
1/2 cup bamboo shoots
2 tablespoons cornstarch
2 cups cooked chicken cut in large bite sized pieces
4 large celery stalks cut diagonally into 1 inch pieces
2 tablespoons cooking oil
2 cups chicken broth
1 tablespoon soy sauce
Ground pepper
Directions 
In a large skillet, heat oil and cook onions until slightly soft.
Add celery, mushrooms and 1 1/2 cup chicken broth.
Cook over low heat for 10 minutes, stirring a few times.
Add water chestnuts, bean sprouts and bamboo shoots.
In a small bowl, make a mixture of cornstarch, soy sauce and 1/2 cup chicken broth and stir until smooth.
Add mixture to the large skillet, along with the cooked meat.
Add freshly ground pepper and mix well.
Simmer for 10 minutes.
Serve over rice or noodles
Switch up the vegetables as you see fit.